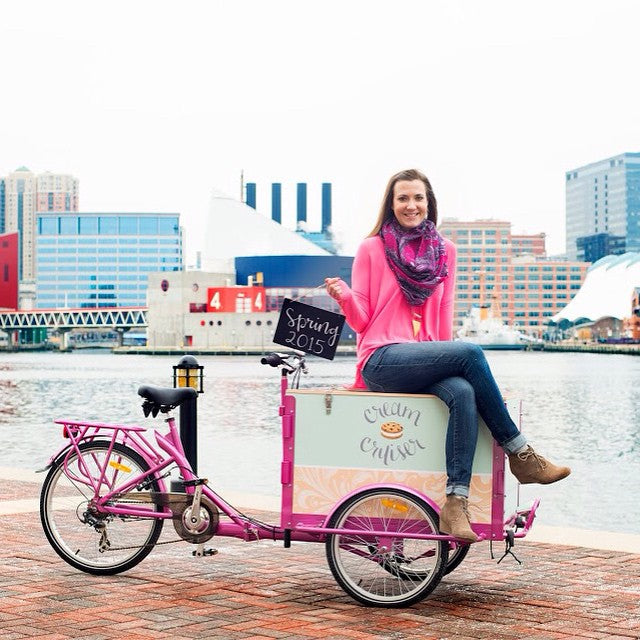 Cream Cruiser was founded in Baltimore, Maryland with a very simple vision: to share our love of desserts with the community and satisfy our cravings for a fun and endless summer with those around us.
The business started in 2015 from our pink ice cream bikes at local farmers markets and festivals where we had the opportunity to share our story, perfect our products and build relationships with our customers. We strive to put a unique and new twist on the old school novelty treats that everyone knows and loves.
All of our products are handcrafted in small batches with so much love and sunshine put into each scoop!
We are proud to be a woman owned company!
Back in 2014, while I working a "normal" job, I had a wild idea to start a business from a bicycle.  I wasn't sure quite what that would be, but I knew that I would be able to figure it out.  At the time, I commuted to work on a bike through the Inner Harbor in Baltimore every day and it was always packed with other commuters, tourists, and pedestrians.  Every single day I would think to myself "What could I sell to all of these people and how can I be easily accessible to them?"
I never had any desire to open a store and I had very little money to invest into starting this great business idea (which was still very far from even being an idea).  I just knew I always had a creative itch and a passion for building something from the ground up.  I sat on the idea for a while but I knew that being able to sell from a bike would be ideal so that I could go out and find my customers...and not have to wait for them to come find me.  
I will spare you the details of MONTHS of product research, testing and trial runs.  But I will fast forward to finally building, buying and designing the ice cream bike.  For the rest of my life, I will remember the day it arrived on probably the coldest December day of 2014.  The ground was 100% iced over so the only test drive I could take it on was in the covered parking garage of a storage unit.  I did half a circle and with a huge smile said 'I LOVE IT!'.
From that moment on it was time to get to work!  That meant finding a commercial kitchen space to operate from, getting permitted from the health department, finalizing my recipes / suppliers, sourcing packaging, confirming pricing, building a website, applying to events and the list goes on and on.
As Spring 2015 approached, I officially scheduled my launch date in May of 2015.  I had joined the Fells Point Farmers Market, showed up on Saturday morning at 7:00am and SOLD OUT ALMOST IMMEDIATELY.  I was shocked!  I think I made a little over $300.00 and I felt on top of the world! 
Not long after launch, I was getting requests for catering events, wholesale accounts and opportunities that I didn't feel ready to handle.  But I saddled up, handled it and since then I have been able to grow my teeny tiny little ice cream business into a small batch dessert manufacturing company.  I have worked incredibly hard over the years, I am so proud of what I have built, but most importantly, I am so thankful for the people who have helped me along the way....and now it is time for me to repay the favor. {HINT: Here is a FREE guide to starting your own bike business: 10 STEP GUIDE}